This parcel is a game changer since it includes two military spec mine detectors which are being used by the French Legion. This makes demining MUCH EASIER for Ukrainian EOD forces. We here at Dzyga's Paw have learned a lot about EOD equipment since Parcel #1 and now hold an expertise in mine detectors. CEIA CMD are really the best ones you can get, and that's not easy to get.
On top of that, we want to ensure our fighters are in relative comfort when executing combat tasks – so high quality boots, socks and uniform is a must.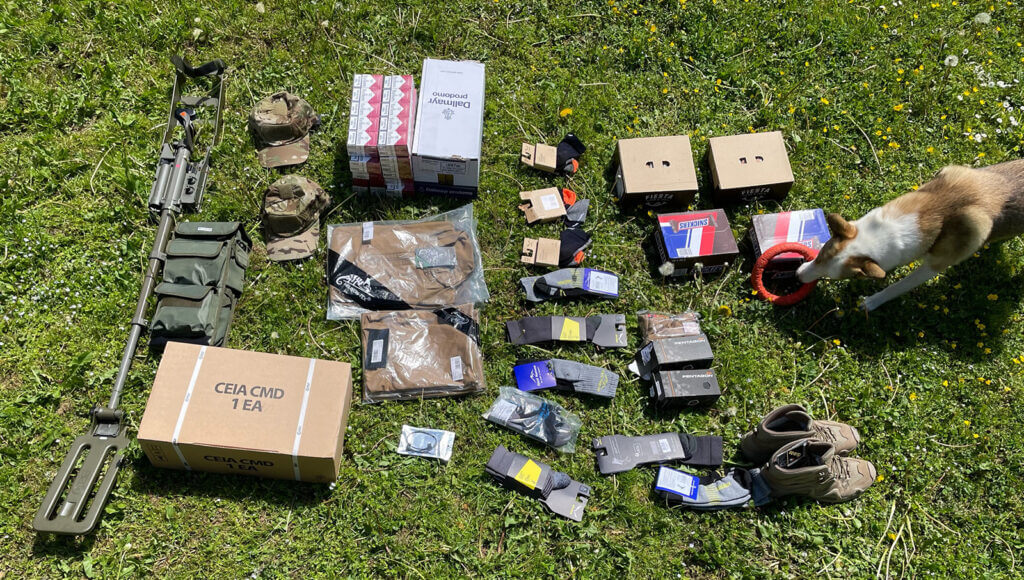 Care package content
Mine detector CEIA CMD – 2x
LOWA GTX Zephyr boots – 1x
Cigarettes – 10 blocks – 100 packs – 2 000 pcs
Drone cable – 1x
Coffee – 6 kg
Snickers – 80x
Waffles chocolate – 60x
Thermoactive Pentagon body shock coyote shirt – 2x
Helicon cap – 2x
Helicon combat shirt – 2x
Helicon Thermoactive shirt – 4x
That was one of the first times when our dog Dzyga showed interest in the parcels we sent out for the Ukrainian military. As of time of writing this, she is our forever partner in composing care packages for Ukrainian defenders!
Was well received by Max!