You can fundraise for Dzyga's Paw!​
Creative Fundraising for the Ukrainian Army
As the number of different fundraisings for Ukraine increases, it becomes harder to stay involved all the time. War is exhausting, and keeping up with all the news might be dull.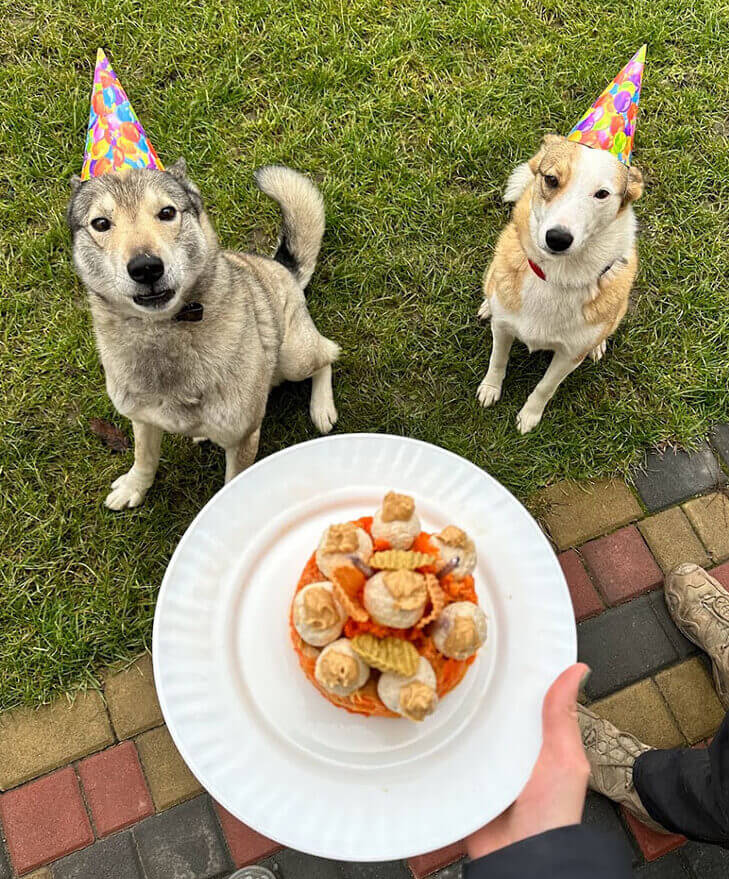 Despite all the challenges of war in a busy modern world, we stay caught up and become creative! So do our supporters!
At Dzyga's Paw, we're always amazed by the creativity and generosity of our donors. Dzyga's Paw supporters find new ways to interact with friends and social media followers to raise more money for our cause.
One of the most inspiring ways our supporters contribute to Ukraine's victory is by starting fundraisers for their birthdays. It's simple: instead of asking for presents, they ask for donations to Dzyga's Paw.
Just as
Oleh Zasadnyy
and
Oksana Kutna
did! The couple shares their birthdays in January. They started a
fundraiser
for 5 DJI Mavic 3 drones and successfully finished it, donating €8000! Around that time, we received a special request for four such drones and
delivered
them directly to the Da Vinci Wolves unit.
Another example of such generosity is our great supporter's fundraiser for his birthday! TB announced on his Twitter account that he would match every donation up to a total of $2000. Together TB and his followers donated $4300!
Last but not least birthday fundraiser was organized by one more of our donors – Oleksandr 'Sasha' Yagensky. He deliberately chose to raise €5000 for the "Skala" battalion, which led the effort to liberate Ukrainian cities and villages in Kharkiv and Luhansk regions. Oleksander managed to overshoot his goal with €9000 raised, delivering tablets, 2 copters, and 40 clamshells to the Skala battalion!
Oleksandr Yagensky remains our faithful supporter. He recently raised more than €10 000 to buy 5 DJI Mavic 3 drones for the 40th Separate Artillery Brigade, which serves around Bakhmut. It turned out that Dzyga's Team could buy and deliver 6 drones and additional batteries for the fundraised money!
Seeing how our followers become even more creative while converting all their effort into donations is impressive. NaFomi #NAFO is one of our committed patrons who came up with the idea of making custom keyrings for NAFO members. All the profits go to the different organizations supporting Ukraine.
I love printing day - 21 new keyrings made up & ready for posting!!

I still have 7 slots left - they cost £15 (including postage worldwide). DM me for details.

ALL profits from this current batch go to @dzygaspaw 🐾 (£140 raised so far). pic.twitter.com/4zqWaSoM1e

— Naomi #NAFO 💚🇬🇧❤️🇺🇦 (@naomimorris1980) March 2, 2023
NaFomi #NAFO dedicated one batch of keyrings with Dzyga's photos specifically for Dzyga's Paw cause!
We recently received the most touching email about two little boys who wanted to make a difference by supporting de-mining efforts. The brothers from Berlin learned about landmines and how they make it impossible for children to play outside safely. They decided to take action by baking cookies and trading them for donations. Thanks to their hard work and dedication, they collected €320 for Vlad's cause. It's heartwarming to see young people getting involved and showing their support for Ukrainian soldiers in their own way.
We want to recognize and celebrate these outstanding individuals. Whether it's a small or large fundraiser, every contribution counts and makes a difference. We're grateful for the creativity and generosity of our supporters, and we're always looking for new and unique ways to fundraise for our cause.
Some of the messages we receive from our supporters are extremely sweet ❤️

We received a donation to support @whatislove_rv and his de-mining work and a letter. These two little boys from Germany made cookies and trade them for donations 🍪 pic.twitter.com/I7YJHAgQBW

— Dzyga's Paw (@dzygaspaw) March 13, 2023
So whether you're celebrating a milestone birthday or a special occasion, or want to do something meaningful for Ukraine, consider starting a fundraiser for Dzyga's Paw. It's a simple but powerful way to make a difference and show your support. You'll inspire others to follow your lead and contribute to our cause in their unique way.
Thank you for being part of our community of supporters!
Every dollar donated will make a profound impact. Your support is a testament to the unity and solidarity that fuels our cause. 
Make a donation today and be a part of the journey to rebuild and empower the defenders of Ukraine.
Want to fundraise for Dzyga's Paw? Contact us 🙂